Descriptions
ISO shipping containers are such a good basic design they are perfect for converting and modifying into a wide range of building
types and configurations.
Modular Union combine traditional building techniques, quality manufacturing and third-party agencies who offer random inspections, testing, and certification services for quality control, modules are built in strict accordance with appropriate local, state, and national regulations and codes. Due to the need to transport modules to the final site, each module must be built to independently withstand travel and installation requirements. Converted shipping containers can be delivered worldwide using the international container network. Proper protection will be used for container transportation.
Features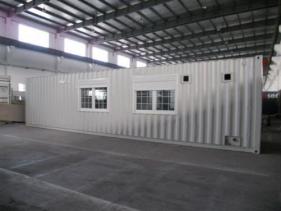 - Modified from new or used ISO standard shipping containers, 8'x 20' and 8' x 40' and special
in size
- Based on in-house modification, floor, wall and roof can be modified to get good force
resistance, heat insulation, sound insulation, moisture resistance, tidy and clean appearance,
and easy maintenance
- Delivery can be completely built-up, both water pipe system and electrical system could be
well installed, ready to hook-up local supply system
- Take you no time to assemble. Just get it, put it on the flat ground, and then use it
- The outer surface and inner fittings could be deal with as your own design
- Containers of this construction can be linked together either side by side or end on end and
stacked one on another to 9 stories


Mini Kitchen Bedroom with bathroom Accommodation
Advantages
l Strength and durability
ISO standard containers are designed to stringent standards, can carry heavy loads and be stacked in high columns. They are also designed to resist harsh environments, not only to withstand the extreme weather conditions on sea voyages, but also withstand natural disasters including earthquakes, hurricanes and tornadoes.
l Flexibility and reuse
All shipping containers are made to standard measurements and as such they provide modular elements that can be combined together to create larger structures. Modified container can be relocated or refurbished for new use.
l Economical construction
Construction of container conversion occurs simultaneously with site work, projects can be completed 30% to 50% sooner than traditional construction.
l Easy transportation
Prefabricated modules can also be easily loaded and transported by ship, truck, or rail, because they already conform to standard shipping sizes.
l Eco-Friendly
When building with containers, the amount of traditional building materials needed (i.e. bricks and cement) are decreased. Container construction reduce waste and site disturbance compared to site-built structures.
Custom Container Conversions
20ft container converted into bathroom

Modifications include: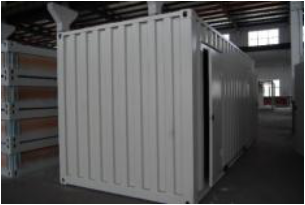 - Fix double galvanized steel sheet sandwich panel for side wall and ceiling,

mineral wool as insulation
- Fix marine grade plywood or cement board as floor
- Fix PVC floor covering and Alu. floor covering for bathroom
- Install doors, windows and exhaust fan
- Electrical system (wiring run in the ceiling and wall) fixed
- Water pipe and plumbing fixed
- Furniture and electrical equipment installed

Fix sandwich panel Bathroom Outside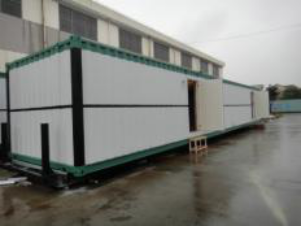 Special Container Conversion
Brand new, structure customized in container factory, converted into
sleeper room, lunchroom and mechanical room. Double floor design
keep the cold out of the room, suitable to use in extreme coldweather.
Modifications include:
- Steel stud with spray PU insulation for ceiling, side wall and partition, spray PU in floor
- Fix decoration board for side wall, ceiling and partition
- Fix marine grade plywood as floor
- Fix PVC floor covering and non-slip floor covering for shower room
- Install doors, windows and exhaust fan
- Fix propane piping, A/C line & main electrical line in the wall and ceiling - Fix water pipe and plumbing in the raised floor - Install furniture and electrical equipment
- Install smoke detector and various signs


Spray PU and Fix panel Fix PVC floor covering Raised floor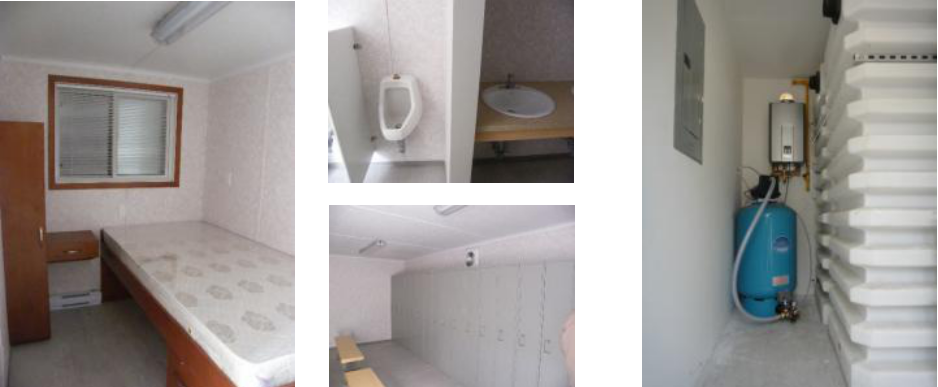 Bedroom Sanitary & Change room Mechanical room

Applications
We can create any permanent or temporary structure including: shipping container homes, offices, retail stores, restaurants, clinic, labor
camps, dormitories, apartments, storage facilities, trade show & event displays, emergency housing, bathroom facilities, and more!


Snack bar Auto show Shop